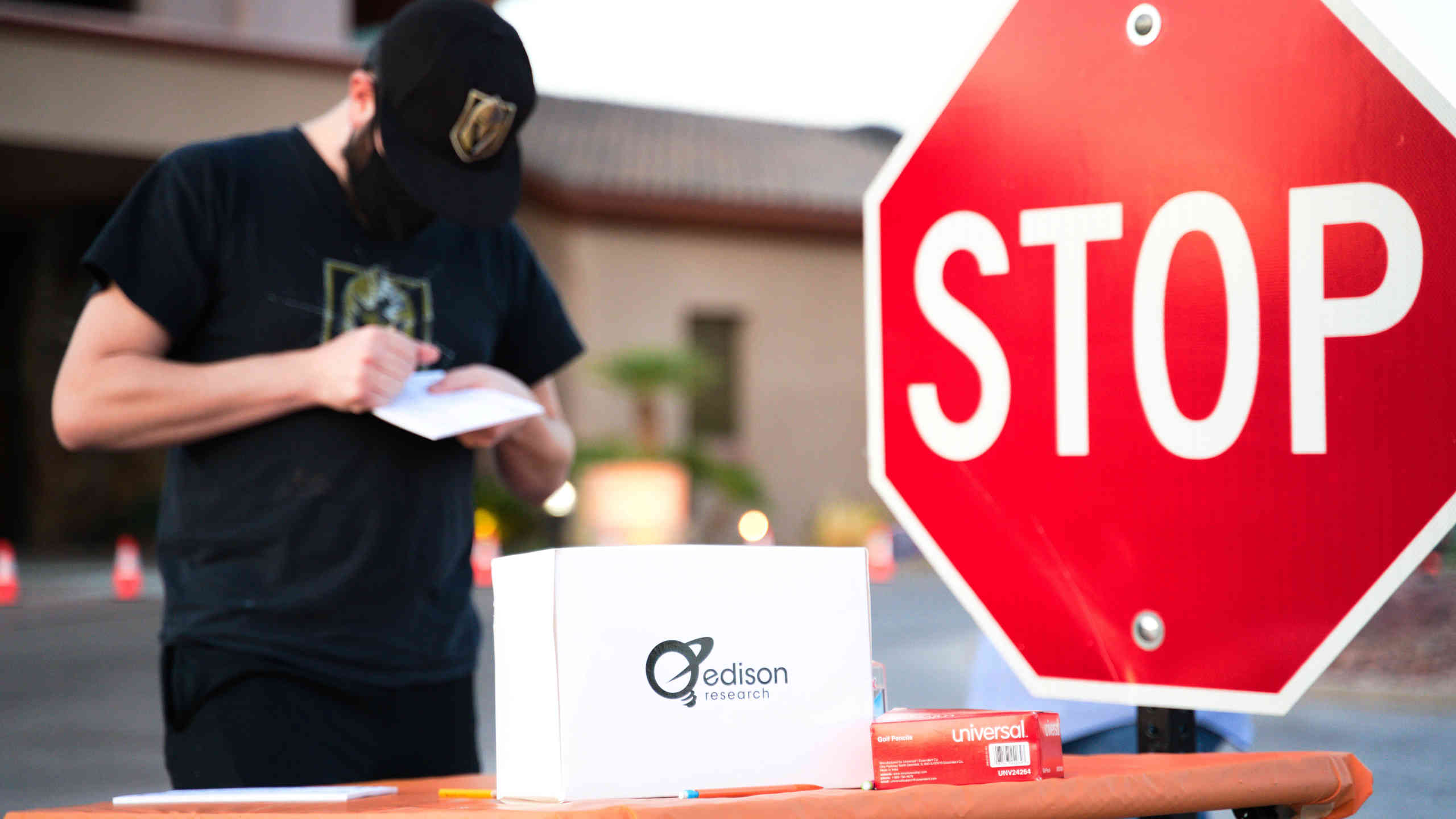 November 3rd 2020 General Election Nevada
I voted early so that I could work polling during the election day.
I was working a very very Trump leaning precinct. The results of my polling were so single sided that the computer rejected them as being anomalous, and I had to call for a manual override!
Stats: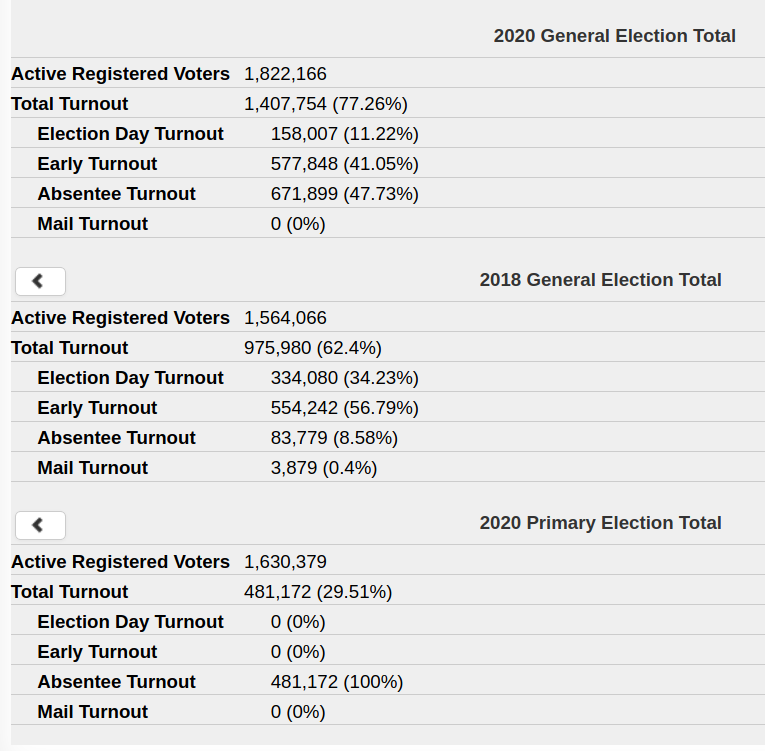 Below are my picks and the actual winners.
President
My Pick: Biden
I liked Jo Jorgenson best, but prefer Biden to Trump.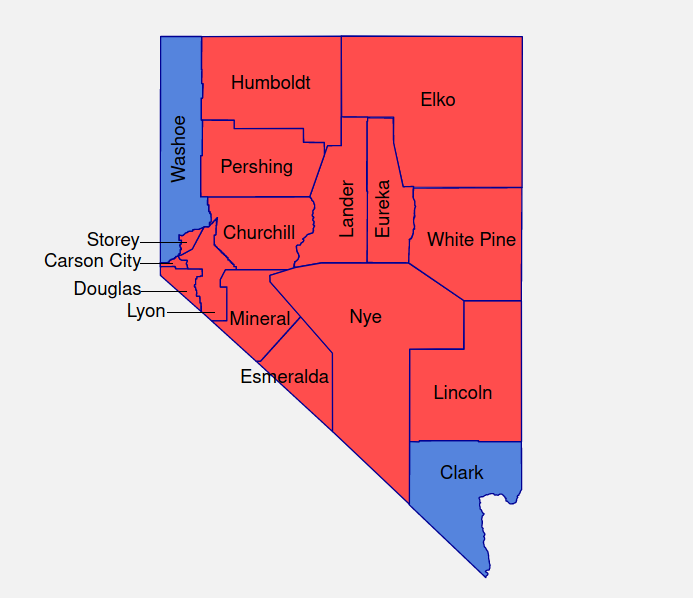 Winner: Biden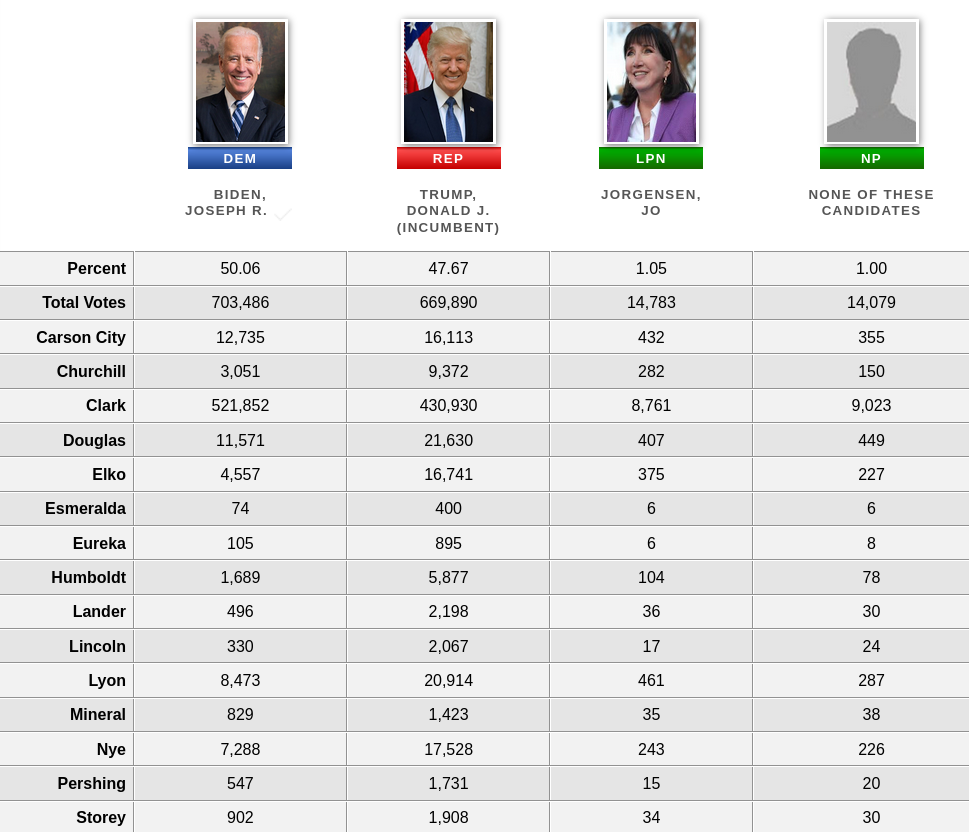 ---
Representative District 5
My Pick: Brown
Winner: Lee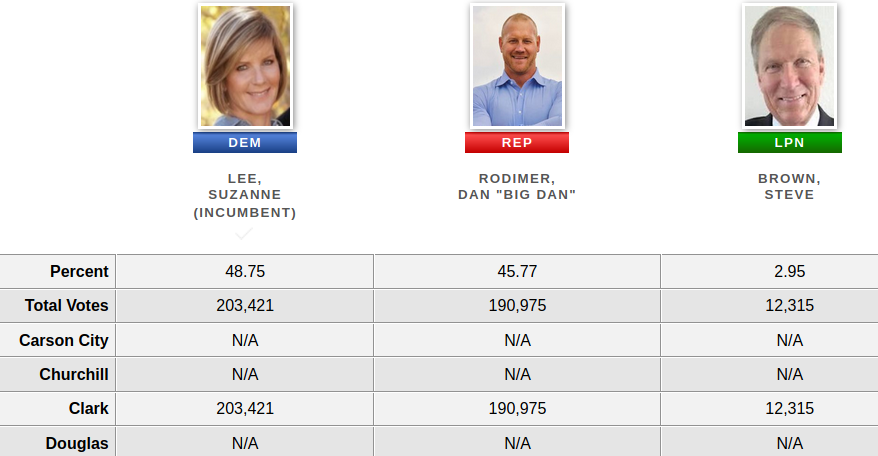 ---
State Senate District 5
My Pick: Watson
Winner: Buck

---
State Assembly District 29
My Pick: Cohen
Winner: Cohen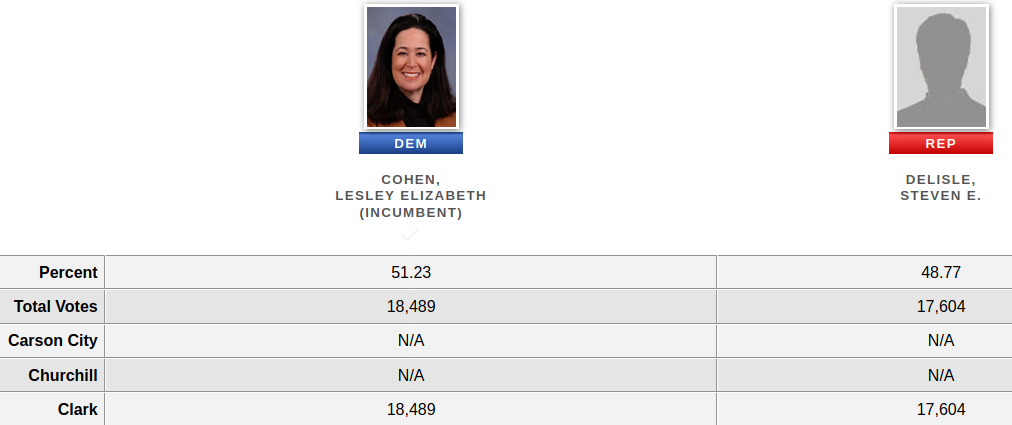 ---
Justice of the Supreme Court Seat D
My Pick: Fumo
Winner: Douglas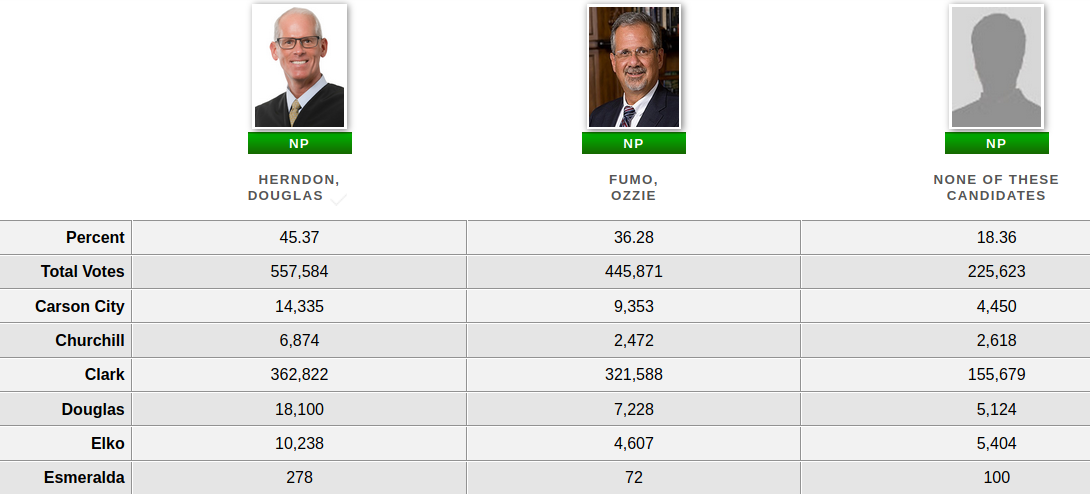 ---
Court of Appeals Department 3
My Pick: Bulla
Winner: Bulla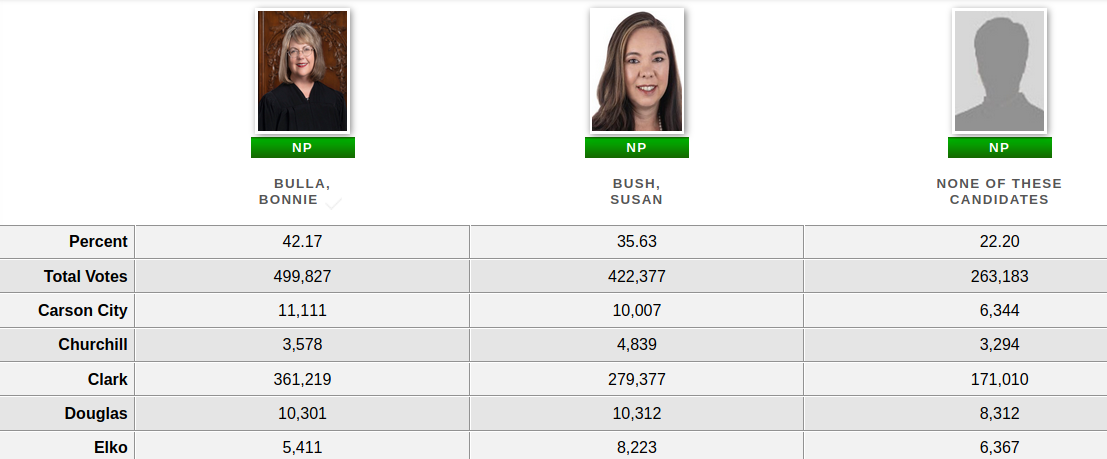 ---
District Court Judge: Dist. 8, Dept. 1
My Pick: Yeager
Winner: Yeager
---
District Court Judge: Dist. 8, Dept. 2
My Pick: Kierny
Winner: Kierny

---
District Court Judge: Dist. 8, Dept. 3
My Pick: Trujilo
Winner: Trujilo

---
District Court Judge: Dist. 8, Dept. 4
My Pick: Krall
Winner: Krall

---
District Court Judge: Dist. 8, Dept. 5
My Pick: Coffing
Winner: Barisich

---
District Court Judge: Dist. 8, Dept. 6
My Pick: Leventhal
Winner: Bluth

---
District Court Judge: Dist. 8, Dept. 8
My Pick: Peterson
Winner: Peterson

---
District Court Judge: Dist. 8, Dept. 17
My Pick: Albertson
Winner: Villani

---
District Court Judge: Dist. 8, Dept. 18
My Pick: Holthus
Winner: Holthus

---
District Court Judge: Dist. 8, Dept. 19
My Pick: Eller
Winner: Eller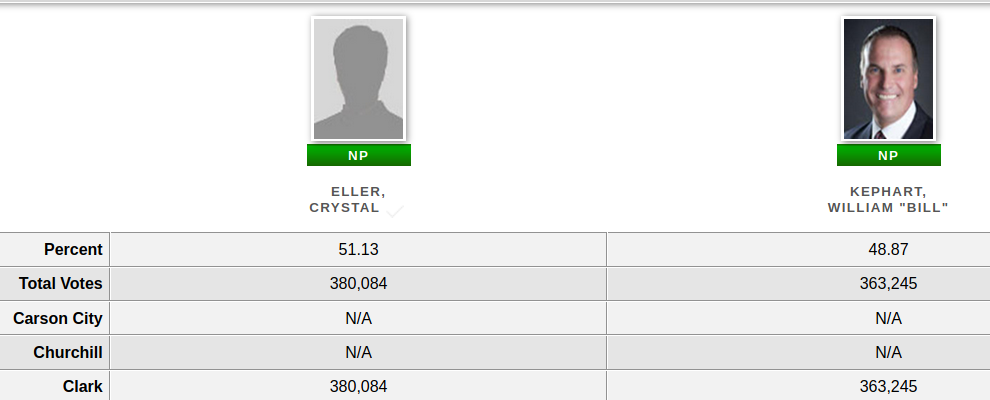 ---
District Court Judge: Dist. 8, Dept. 20
My Pick: Hooker
Winner: Johnson

---
District Court Judge: Dist. 8, Dept. 21
My Pick: Renynolds
Winner: Clark

---
District Court Judge: Dist. 8, Dept. 22
My Pick: Nadig
Winner: Johnson

---
District Court Judge: Dist. 8, Dept. 23
My Pick: Lilly-Spells
Winner: Lilly-Spells

---
District Court Judge: Dist. 8, Dept. 24
My Pick: Ballou
Winner: Ballou

---
District Court Judge: Dist. 8, Dept. 29
My Pick: Lopez-Niegrete
Winner: Jones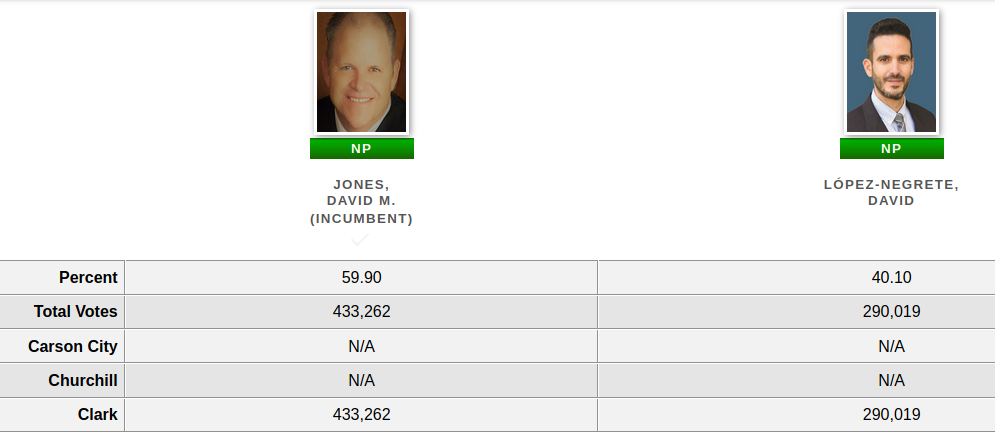 ---
District Court Judge: Dist. 8, Dept. 31
My Pick: Call
Winner: Kishner

---
District Court Judge: Dist. 8, Dept. 32
My Pick: Craig
Winner: Craig

---
District Court Judge: Dist. 8, Family Division Dept. E
My Pick: Kurtz
Winner: Hoskin

---
District Court Judge: Dist. 8, Family Division Dept. G
My Pick: Childs
Winner: Forsberg

---
District Court Judge: Dist. 8, Family Division Dept. I
My Pick: Tobler
Winner: Bailey

---
District Court Judge: Dist. 8, Family Division Dept. J
My Pick: MacDonald
Winner: Butler

---
District Court Judge: Dist. 8, Family Division Dept. M
My Pick: Mastin
Winner: Mastin

---
District Court Judge: Dist. 8, Family Division Dept. P
My Pick: Dayani
Winner: Perry

---
District Court Judge: Dist. 8, Family Division Dept. T
My Pick: Cutter
Winner: Cutter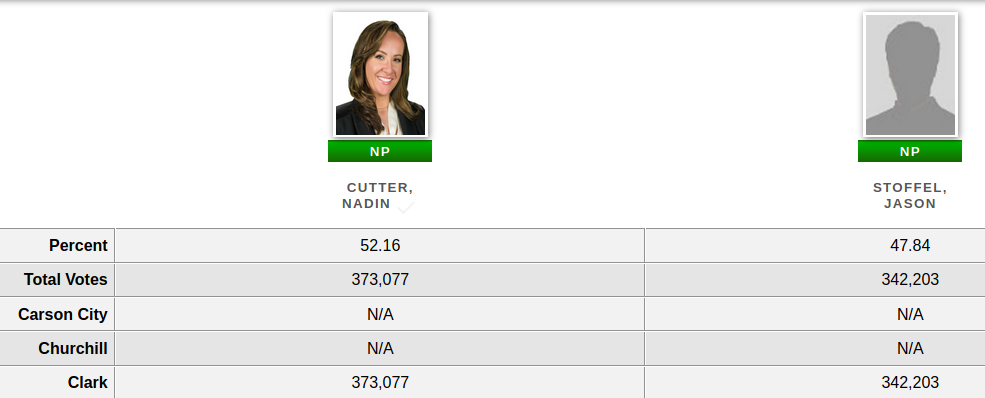 ---
District Court Judge: Dist. 8, Family Division Dept. U
My Pick: Throne
Winner: Throne

---
District Court Judge: Dist. 8, Family Division Dept. W
My Pick: Rincon White
Winner: Rocheleau

---
District Court Judge: Dist. 8, Family Division Dept. X
My Pick: Almase
Winner: Almase

---
District Court Judge: Dist. 8, Family Division Dept. Z
My Pick: Perez
Winner: Mercer

---
Trustee Clark County School District A
My Pick: Guzman
Winner: Guzman

---
My Choice Q1: No
Result: No

My Choice Q2: Yes
Result: Yes

My Choice Q3: Yes
Result: Yes

My Choice Q4: Yes
Result: Yes

My Choice Q5: Yes
Result: Yes